Analysers and Test Equipment
ARINC 818 Video and Protocol Analyzer (VPA)
The VPA Generation II quickly verifies compliance with ARINC 818 standards. Reduce development time. A custom card captures data. The analyzer software and interface accurately and efficiently decode and display data and flag errors.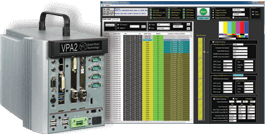 ---
Video recorder and playback system
High-performance Titan, Callisto, and Europa configurations can record and play out up to eight synchronized video streams. All can be configured to play back to a GUI or play out through the hardware, creating synchronized ARINC 818 video playout to cockpit displays or simulators.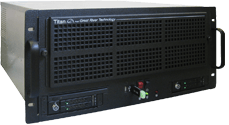 ---
HS SAM Gen II
HS SAMView 2 software improves flexibility and efficiency for a new generation of stand-alone module. Order features customized for flight testing, the lab, productions facilities, or the simulator.
---
Pantera 4×4 switch
Smart switching technology ensures that video frames are not broken or corrupted. The Pantera offers link rates to 4.25 Gb/s.

---
ARINC 818 switches
Employ in avionics applications that need multiple optical I/O interfaces and very high switching speeds. 10×10 switch is available in 1U 19-inch rack.